Flip Oude Weernink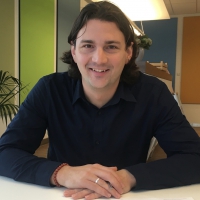 Let's accelerate the mobility transition together (EN)
Mobility is one of the main causes of CO2 emissions but also of the pollution of the air we breathe every day, even when we are far from the city. Moreover, our consumerist mobility behaviour contributes to congestion, economic burdens and, consequently, social stress. We are demanding far more of ourselves, our environment and nature than is actually possible. Only with pragmatic, affordable mobility solutions can we reduce our carbon footprint and restore the natural balance between mankind, welfare and nature.
All the necessary building blocks for the realisation of an integrated sustainable mobility chain are already widely available. Therefore, we should not get stuck in analyses and reinventing the wheel again but translate plans with vision and ideas directly into practical applications. It is by using existing building blocks that are already available that we can realise sustainable mobility solutions that are economically, practically and technically feasible. It is the strength of Toro E-mobilita's to put this into practice.
The power of Toro E-mobilita lies in its intuitive, creative but tightly structured working method. This approach always starts with assessing the economic, practical and technical feasibility of the task. This is followed by a (plan of) approach in which financing, organisation, quality, information and time are critical indicators. The aim is then to work as much as possible with existing building blocks and to draw on Toro E-mobilita's large network. In order to achieve sustainable results quickly with the right people, resources and experience. Toro E-mobilita offers more than 10 years of experience in international business development in the (electric) mobility sector and more than 6 years of specific expertise in shared electric mobility and MaaS concepts.